Welcome to CADS, Royston
Auditions for Pygmalion will take place on Tuesday 25th May!
This year CADS will be bringing Pygmalion (the play that was adapted to make My Fair Lady) to Royston Arts Festival. Reheasals are open to all, turn up any time between 7.15 and 8.30 (the earlier the better). Auditions will take place at Meridian School Drama Studio. Follow our Facebook Event for more updates and information!
If you can't make the auditions but are still interested please email cads.secretary@gmail.com
---
* Click here for information about our next Play Reading Group -
some time in May!
---
---

---

See pictures from 2015's Black Comedy & Light Entertainment.
---
We have a varied programme and always welcome new members. We've just wrapped up the fantastic 2017 Royston Town Pantomime Red Riding Hood; back in 2016 we had a record-breaking run with our own home-grown Aladdin and also put on Abigail's Party for the Royston Arts Festival. 2015 saw us present a double bill of Peter Shaffer's Black Comedy and a cabaret-style evening of light entertainment for the Royston Arts Festival, as well as that year's panto Cinderella. Our Autumn 2014 production of The Fosdyke Saga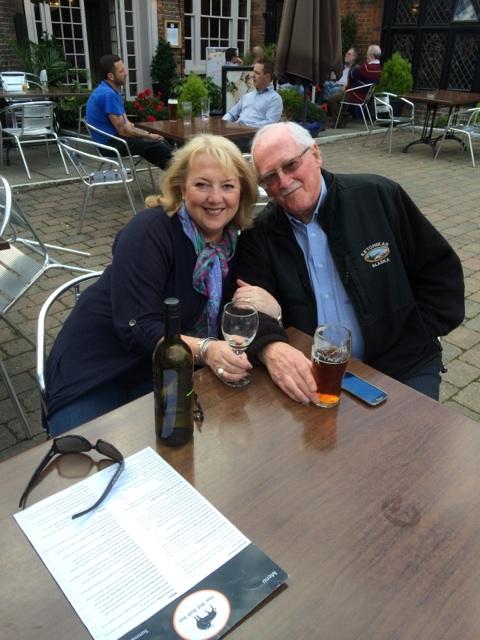 for the Royston Arts Festival was warmly received and even attracted the attention of the legendary Bill Tidy, on whose cartoon strip it was based. The Great Man (seen right at the Old Bull, Royston, with his daughter Sylvia) attended the Friday night performance along with his family, and was gracious enough to praise both cast and crew for bringing new life to the show!
In 2013 and 2014 we presented a one-act comedy Turn to Face the Change by local author Peter Hawes. We performed at the Cambridge Drama Festival 2013, the Welwyn Drama Festival 2013 and the Sawston Drama Festival 2014, and won several awards and glowing adjudication for our efforts!
And of course every year there's the Royston Town Pantomime - oh yes there is!
For more information, or to enquire about joining CADS, please use the contact page
CADS is a not-for-profit organisation which relies solely on donations and ticket sales to finance our activities. If you would like to offer a donation, please use the button here: