Welcome to CADS, Royston
Click here to book your seats!
---
Directing Workshop with Robin Belfield - now booking!
CADS is delighted to announce a very special workshop on directing for the stage by Robin Belfield to take place on Saturday 6 October 2018 between 10.00 and 12.00 at the Coombes Community Centre in Royston.
Robin is a British theatre writer, director and producer who has worked with the National Theatre, the Royal Welsh College of Music and Drama, the Oxford School of Drama and the Guildhall School of Music and Drama. He grew up in Royston and attended Icknield Walk, Greneway and Meridian Schools. He even appeared in pantomime with CADS many years ago, and he has made a couple of return guest visits to the town for the Royston Arts Festival in recent times.
The workshop is open to everyone and is free of charge. Places are strictly limited so pre-booking is essential. To reserve your place, please complete our simple booking form by clicking here.
We're hoping that this will be the first of an occasional series of drama-related workshops over the next year - we've already pencilled in a second workshop on stage combat for later this year! Check out further announcements about this and other events here or on our Facebook Event page!
---
Pantomime 2019 - Audition date announced!
It's never too early to start thinking about January and the next Royston Town Pantomime! Alison Bass and Louise Atkins will be taking up the reins for 2019 and the show this time is Robinson Crusoe and the Pirates by Tom Whalley (coincidentally, a different Robinson Crusoe was the last CADS panto that Robin Belfield was in!). Auditions will take place on Monday 1 October in the Drama Studio at Meridian School, Royston and are open to anyone (with the age restrictions detailed below). Those for the chorus (any age but at least aged 12+) will take place between 7.00 and 7.30 p.m., those for main roles (aged 16+) between 7.45 and 9.00 p.m. If you'd like to get involved or you have any queries about the show or the auditions, please do contact us and register your interest!
---
One prize, three nominations for CADS at the 50th Cambridge Drama Festival!


The CADS entry for this year's Cambridge Drama Festival - Ben Lewis's Romance is Dead, specially adapted for the stage and directed by our own Emma Daintrey - carried off the Backstage Endeavour Award on Saturday 28 April! Also nominated among the awards were Rebecca Aloneftis (Best Actress), Nicky Paton (Best Actor) and Mark Hamblin (Best Cameo). Congratulations to all involved! Pictured left are Emma and Joe Daintrey with their award, and on the right the cast looking (mostly) suitably amazed!
Remember - you can follow our Facebook Event for more updates and information!
---
Congratulations to this year's winners of our Drama Awards: Donna Sleight and Heather Lawrence.
---
Most recent shows:







See some pictures here.
---
We have a varied programme and always welcome new members. We've just produced the world theatrical premiere of
Romance is Dead
, specially adapted and directed by our own Emma Daintrey from a radio play by Ben Lewis, which we took to the 50th Cambridge Drama Festival, and earlier this year we wrapped up the highly succesful 2018 Royston Town Pantomime
Mother Goose
. 2017 saw both a critically acclaimed production of
Pygmalion
, and the fantastic pantomime
Red Riding Hood
. while back in 2016 we had a record-breaking run with our own home-grown
Aladdin
and also put on
Abigail's Party
for the Royston Arts Festival. 2015 saw us present a double bill of Peter Shaffer's
Black Comedy
and a cabaret-style
evening of light entertainment
for the Royston Arts Festival, as well as that year's panto
Cinderella
. Our Autumn 2014 production of
The Fosdyke Saga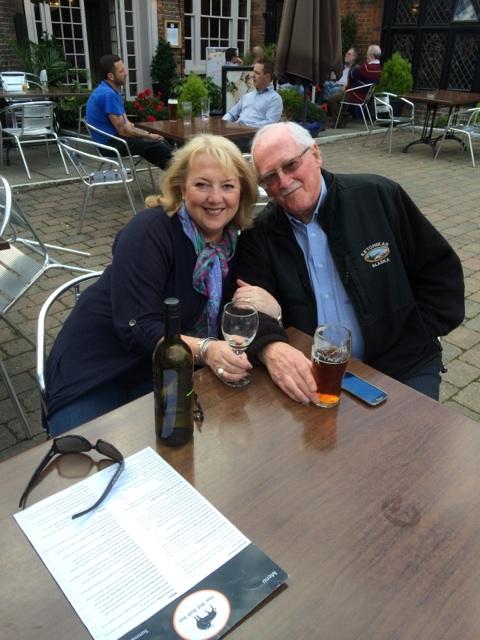 for the Royston Arts Festival was warmly received and even attracted the attention of the legendary Bill Tidy, on whose cartoon strip it was based. The Great Man (seen right at the Old Bull, Royston, with his daughter Sylvia) attended the Friday night performance along with his family, and was gracious enough to praise both cast and crew for bringing new life to the show!
In
2013
and
2014
we presented a one-act comedy
Turn to Face the Change
by local author Peter Hawes. We performed at the Cambridge Drama Festival 2013, the Welwyn Drama Festival 2013 and the Sawston Drama Festival 2014, and won
several awards
and glowing adjudication for our efforts!
And of course every year there's the Royston Town Pantomime - oh yes there is!
For more information, or to enquire about joining CADS, please use the
contact page
---
CADS is a not-for-profit organisation which relies solely on donations and ticket sales to finance our activities. If you would like to offer a donation, please use the button here: