Welcome to CADS, Royston
*** 24/25/31January/1 February - "Jack and the Beanstalk" ***

*** 19 February - drama quiz ***

*** 2 April [tbc] - workshop: "Musical theatre" ***
Pantomime 2020 now booking!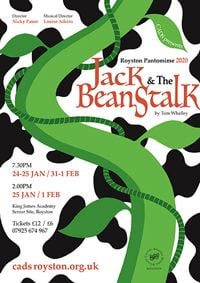 Tickets for the 2020 Royston Town Pantomime Jack and the Beanstalk are now on sale -
click here for further details, but note that both matinee performances are now effectively sold out!
---
Evening meetings - programme announced

We've just published our programme of evening meetings for 2019/2020
Click here for full details...
---
CADS is a not-for-profit organisation which relies solely on donations and ticket sales to finance our activities. If you would like to offer a donation, please use the button here:
---
One prize, three nominations for CADS at the 50th Cambridge Drama Festival!


The CADS entry for the 2018 Cambridge Drama Festival - Ben Lewis's Romance is Dead, specially adapted for the stage and directed by our own Emma Daintrey - carried off the Backstage Endeavour Award on Saturday 28 April! Also nominated among the awards were Rebecca Aloneftis (Best Actress), Nicky Paton (Best Actor) and Mark Hamblin (Best Cameo). Congratulations to all involved! Pictured left are Emma and Joe Daintrey with their award, and on the right the cast looking (mostly) suitably amazed!
Remember - you can check out our Facebook page for more updates and information.
---
Congratulations to this year's winners of our Drama Awards - Rupert Jordan and Ellis Hughes!
---
Most recent shows:







See some pictures here.
---
We have a varied programme and always welcome new members.
Ou
r pantomimes are always child-friendly, focussing on family entertainment (for which we've gained an excellent reputation locally in recent years). Our performers (children and adults) are all local amateurs, yet we all aim for high quality in as many aspects as possible - acting, script, lighting,
sound, special effects, and of course our live band...
We've just rung down the curtain (not that we had one!) on a highly acclaimed production of Terence Rattigan's
Flare Path
for the 2019 Royston Arts Festival and at the start of this year we presented the 2019 Royston Town Pantomime
Robinson Crusoe and the Pirates
, while last year we performed David Tristram's black comedy
Ghost Writer
for the Royston Arts Festival as well as producing the world theatrical premiere of
Romance is Dead
, specially adapted and directed by our own Emma Daintrey from a radio play by Ben Lewis, which we took to the 50th Cambridge Drama Festival. Also last year we gave you the highly succesful 2018 pantomime
Mother Goose
, while 2017 saw both a much praised production of
Pygmalion
, and the fantastic
Red Riding Hood
. Back in 2016 we had a record-breaking run with our own home-grown
Aladdin
and also put on
Abigail's Party
for the Royston Arts Festival.
And of course every year there's the Royston Town Pantomime - oh yes there is!
For more information, or to enquire about joining CADS, please use the
contact page
---