Current CADS production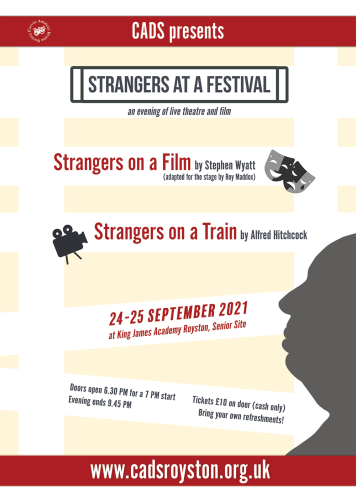 Our current productiion - the short radio play
Strangers on a Film
by novelist and script writer Stephen Wyatt, adapted for the stage by local author Roy Maddox - has just won second place overall at this year's Cambridge Festival of Drama, and Martin Maynard, who plays Alfred Hitchcock in the piece, came away with the award for Best Individual Performance. We were also nominated for a techincal achievement award and Michael Young (who plays Raymond Chandler) received a nomination for best supporting performance. You can see this award-winning production at this year's Royston Arts Festival, in a unique double bill - see details below.
Strangers on a Film
This play, based on real events, imagines a series of encounters in 1950 between film director Alfred Hitchcock and thriller writer Raymond Chandler. Hitchcock was, at the time, looking for someone to write a screenplay for his next film, which was to be an adaptation of the novel Strangers on a Train, the debut novel by Patricia Highsmith. An admirer of Chandler's work, Hitch approached him to work on the screenplay, though relations between the two men turned out to be far from harmonious - Chandler, being an author, wanted the script to be true to the book, whereas Hitchcock simply wanted to make a visually exciting movie and didn't much care for the niceties of the plot; indeed, he changed much of what was in the original story to suit his vision of what would make a good thriller.
Strangers on a Film somewhat ambitiously charts the increasingly acrimonious relationship between the two men, told through a mixture of individual meetings and direct addresses to the audience, and illustrated with projected film, animation and still images. It's basically a two-hander though it also uses a chorus of non-speaking "extras" to play some minor roles and to act out a couple of scenes from the proposed movie.
Martin Maynard plays Hitchcock, and Michael Young Chandler, with the ensemble of extras including Jo Buggey, Beth Moorley, Becky Seakins, Joe Symonds, Jim Wilson and Kathy Young.
Strangers at a Festival
For this year's Royston Festival, we will be performing the play as the first half of the evening, and then screening the whole of the Hitchcock movie Strangers on a Train as the second half! We're doing so on the first two evenings of the Festival - Friday 24 & Saturday 25 September - at King James Academy Royston, Senior Site (formerly Meridian School). As part of the audience for this unique event, you will be arranged cabaret style around tables and you will need to bring your own refreshments.
Doors will open at 6.30 p.m. for a 7.00 start and the whole evening is expected to end at around 9.45 p.m. Tickets (£10) will be available only on the door; we regret that we can only accept cash or cheque payments, please.
More details will be listed here, on social media, and in our newsletter as soon as we have them. We look forward to presenting what we hope will be an unusual but informative and enjoyable evening's entertainment!
IMPORTANT
If you are involved in a CADS production that also involves children (defined as anyone under the age of 18), it is important that you read - and confirm to us that you have read - our Child Protection Policy document and the set of procedures that accompany it. The policy is summarised here and that page also includes a link to the full procedural document - please take time to read both and then click on the link on that page to show that you have done so. Thank you.
You can find additional information and updates on our Facebook Event page...
Sign up to our newsletter at the bottom of this page to be kept up to date with the latest news.