Current CADS production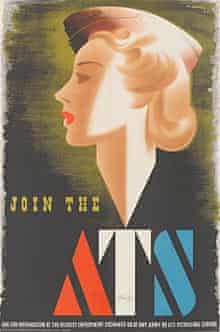 Coming soon: The Blonde Bombshell
During World War II, the War Office employed an official war poster artist. He was Abram (Abe) Games, later to become recognised as one of the country's leading poster artists. Commissioned to design a recruitment poster for the ATS, Games chose as his model a young woman who happened to wander into his studio. The resulting poster was an instant hit with the public (who nicknamed it "The Blonde Bombshell") and led to thousands of young women joining the services, but concerns were expressed in Parliament about the image it portrayed of women in the forces.
This one-act play by local author Roy Maddox tells its story from the viewpoint of the young model and explores attitudes then and now to images of women. We organised an online read-through of the play last year, and we're now planning to submit it as our contribution to a few local drama festivals, starting with Welwyn which this year runs from 16 to 21 May.
We'll be holding auditions for the play at 7.30 p.m. on Wednesday 23 February in the Drama Studio at King James Academy Royston. The roles up for grabs are as follows (in order of appearance, with a rough guide to age ranges)
Becky
- female, thirty-something
Jess
- female, slightly younger
Corin
- female, mid to late seventies
Abram
("Abe")
Games
(as a young man) - male, mid to late twenties
Doreen
- female, nineteen (Corin as a young woman)
Ronald
Tritton
- male, thirties
Fred
- male, early to mid twenties
Dobson
- male, any age (
NB: has one line only
)
Thelma
Cazalet
-
Kerr
- female, forties
Abram
("Abe")
Games
(in later life) - male, late seventies to early eighties
Auctioneer
- either sex, any age
Auditions are open to absolutely anyone, whether or not you've acted with us before, and you don't need to prepare anything - just turn up and we'll get you to read a few pages from the play. However, if you'd like to see a copy of the script beforehand, please e-mail [email protected]
IMPORTANT
If you are involved in a CADS production that also involves children (defined as anyone under the age of 18), it is important that you read - and confirm to us that you have read - our Child Protection Policy document and the set of procedures that accompany it. The policy is summarised here and that page also includes a link to the full procedural document - please take time to read both and then click on the link on that page to show that you have done so. Thank you.
You can find additional information and updates on our Facebook Event page...
Sign up to our newsletter at the bottom of this page to be kept up to date with the latest news.
---