Current CADS production
Royston Town Pantomime 2020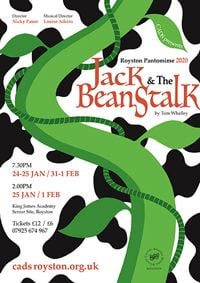 Tickets for the 2020 Royston Town Pantomime Jack and the Beanstalk are now on sale and you can buy yours either by visiting the Positickets box office site or by ringing the Box Office directly on 07925 674967
The 2020 show has been written by Tom Whalley (who wrote this year's hilarious Robinson Crusoe and the Pirates). Fearless juvenile Jack, his 'daft-as-a-brush' brother Simple Simon, and his long suffering mother Dame Trott live in a tiny cottage in the shadow of the terrible giant Blunderbore. With the rent overdue they have no choice but to sell their beloved pet cow Daisy. After tricking the Trotts into selling her for a bag of worthless beans, the villainous henchman Fleshcreep kidnaps the Princess for the giant's supper... Could Jack be the hero the village has been waiting for? Will he be able to rescue Daisy and Princess Jill in time? Perhaps those beans aren't as worthless as they seemed!
Nicky Paton is directing, with Louise Atkins as Musical Director. Performances will be on Friday 24 January, Saturday 25 January, Friday 31 January and Saturday 1 February 2020 with the usual 2.00 matinees on each Saturday and evening performances at 7.30 on all dates.
The cast is as follows (as is customary, those names not appearing in blue are appearing with CADS for the first time)
Fleshcreep - Ben Paton
Mother Nature - Alison Bass
Princess Jill - Abi Daniels
Dame Trott - David Atkins
Simple Simon - Nicky Paton
Jack Trott - Izzy Bass
King Edward - Barbara Perry
Giant Blunderbore - Matthew Harrison
Chorus: Hannah Barnes, Jo Buggey, Holly Clifton, Sam Durrant, Holly Dwyer, Ollie Dwyer, Oliver Eather, Luke Francis, Amadeus Hall, Katie Hall, Sophie Paterson, Freya Tansley, Jessica Woods
And we still have plenty of roles off stage, too - from make-up, costumes, props, lighting and sound to set building and front of house - so if you'd like to get involved in what is always a huge amount of fun, do contact us using the Contact page on this site or by e-mail to [email protected]
Further details here and elsewhere as soon as we have them...
IMPORTANT
If you are involved in a CADS production that also involves children (defined as anyone under the age of 18), it is important that you read - and confirm to us that you have read - our Child Protection Policy document and the set of procedures that accompany it. The policy is summarised here and that page also includes a link to the full procedural document - please take time to read both and then click on the link on that page to show that you have done so. Thank you.
You can find additional information and updates on our Facebook Event page...
Sign up to our newsletter at the bottom of this page to be kept up to date with the latest news.
---