Current CADS production
RAF at the RAF*!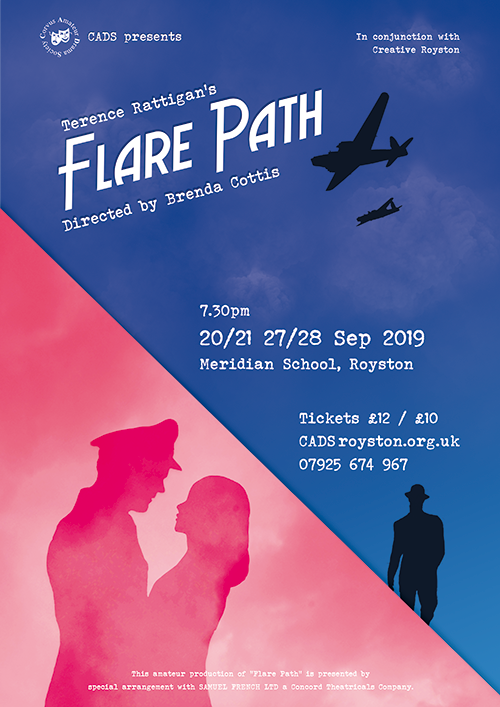 The curtain rose last weekend on our latest show, which is the CADS contribution to the 2019 Royston Arts Festival, and feedback from the audience so far has been extremely positive! You can still book online for the remaining shows by visiting our partners Positickets, or you can ring our Box Office number on 07925 674967. NOTE that seating for this show will be a mixture of cabaret style with tables and chairs and the more traditional rows of seating, but there are no numbered seats so get there early! Note also that you don't need a Paypal account to book - there should be an option on the Positickets site to pay by debit or credit card; if you experience any difficulties, then please ring the Box Office directly.
This year we're staging a real classic wartime drama - Terence Rattigan's Flare Path, first performed in 1942. It's a story, of love and loyalty, courage and fear, and was based in part on Rattigan's own experiences in the RAF. It tells of a group of airmen stationed on the Lincolnshire coast and perhaps more importantly, of the women in their lives. Bomber pilot Teddy Graham is celebrating a reunion with his actress wife Patricia at a small hotel, but the arrival of Hollywood film star Peter Kyle, and a sudden urgent bombing mission over Germany both threaten to throw everyone's lives into turmoil.
We're completely delighted to have Brenda Cottis on board as director for the show - Brenda has appeared in recent years with CADS in Romance is Dead and Pygmalion but has a vast wealth of experience directing with groups both here and in Cambridge. Remaining dates for the play, whch is being performed at the King James Academy, Senior Site (formerly Meridian School), are Friday 27 and Saturday 28 September; doors open at 7.00 and curtain up is at 7.30 on each occasion. The full cast looks like this (as is customary, those names not shown in blue are appearing with CADS for the first time):
Countess Skriczevinsky (Doris) - Tricia Phillips
Peter Kyle - Martin Maynard
Mrs Oakes - Claire Hogan
Sergeant David Miller (Dusty) - Rupert Jordan

Maisie - Beth Moorley
Flying Officer Count Skriczevinsky - Matthew Harrison
Flight Lieutenant Teddy Graham - Mark Hamblin
Patricia Warren (Mrs Graham) - Rebecca Seakins
Mrs Maudie Miller - Rebecca Aloneftis
Squadron Leader Swanson - Michael Young
Corporal Jones (Wiggy) - Joe Symonds
If you'd like to get involved backstage or front of house with this or any future shows, or can offer help with costumes, make-up or whatever, or if you have any queries about the group in general, please do contact us and register your interest!
* joke courtesy of Mr Rupert Jordan!
IMPORTANT
If you are involved in a CADS production that also involves children (defined as anyone under the age of 18), it is important that you read - and confirm to us that you have read - our Child Protection Policy document and the set of procedures that accompany it. The policy is summarised here and that page also includes a link to the full procedural document - please take time to read both and then click on the link on that page to show that you have done so. Thank you.
You can find additional information and updates on our Facebook Event page...
Sign up to our newsletter at the bottom of this page to be kept up to date with the latest news.
---