Meetings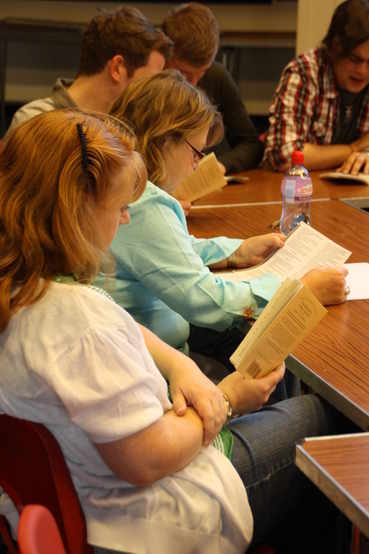 As well as putting on productions, CADS runs a series of more-or-less regular mid-week meetings related to drama in all its aspects. Often these take the form of play readings - to date, we've read works by Alan Ayckbourn, Peter Shaffer, Willie Russell, Lee Hall, David Tristram and Terry Johnson - but we've also had talks by visiting speakers, a film show and a number of mini-workshops.
The meetings normally take place (unless otherwise stated) at the Coombes Community Centre (actual room may vary depending on the nature of the meeting). They usually start at 7.00 p.m. and last until about 9.00 p.m. (with maybe a break for refreshments, depending on the nature of the evening) but on occasion may go on slightly longer. And normally, there's no need to book - just turn up - we look forward to seeing you.
Our next scheduled meetings, however, are necessarily being held online using the Zoom meeting app. They are:
Monday 13 July 7.30 p.m. - play reading: Season's Greetings by Alan Ayckbourn,hosted by Martin Maynard
Monday 27 July 8.00 p.m. - online drama quiz hosted by Michael Young
Monday 17 August 7.30 p.m. - play reading: Farndale Avenue [exact title tba], hosted by Emma Daintrey
We had hoped, on Wednesday 23 September, to be able to present a talk entitled "Adaptation" as part of the Royston Arts Festival. Nick is a prolific local writer, actor and director whose original plays are frequently heard on Radio 4 as well as being enormously popular with amateur groups throughout the region (and, indeed, the country). Some of you will no doubt remember our productions of The Last Bread Pudding (probably the cleverest and funniest one-act play about one-act plays ever written) and Ghost Writer (the one-acter we staged way back in 2007, rather than the recent David Tristram play of the same name which we performed in 2018). Nick's recent work has included writing for The Archers and he has also adapted many classic works of literature for both radio and the stage. Because the Festival looks likely now to be a "virtual" festival, we're hoping we can persuade Nick to present the talk online but negotitaions are still ongoing. Watch this space for news...
If you have an idea for any future meetings, or would like to lead a session yourself, please contact the CADS Secretary Michael Young....
Watch this site for details of future meetings!