Meetings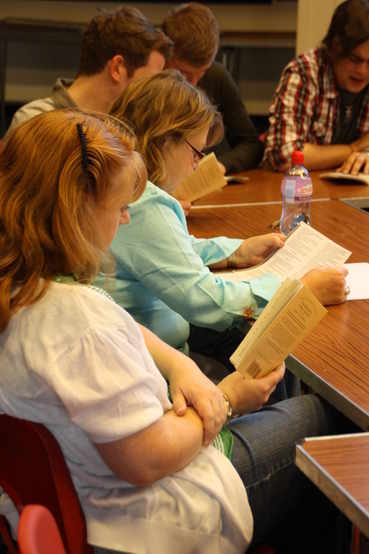 As well as putting on productions, CADS runs a series of more-or-less regular meetings related to drama in all its aspects. Often these take the form of play readings but we've also had talks by visiting speakers, a film show, several quizzes and a number of excellent mini-workshops.
The meetings normally take place (unless otherwise stated) at the Coombes Community Centre (actual room may vary depending on the nature of the meeting). They usually start at 7.30 p.m. and last until about 9.00 p.m. (with maybe a break for refreshments, depending on the nature of the evening) but on occasion may go on slightly longer.
Our next scheduled meetings include an exciting series of acting workshops focusing on duologues hosted by former professional actor Martin Maynard. These started on Tuesday 14 June at King James Academy Royston and will run for the next four Tuesdays (7.00-9.00 p.m.) but you're still welcome to join in - please e-mail [email protected] to register your interest.
And on Tuesday 19 July, former CADS regular and now professional actor Kim Ensor will regale the group with an account of "Life After CADS", a life that encompasses contemporary musical theatre, straight drama, TV commercials and much more besides
Also in the pipeline - possibly for the Summer - a special evening devoted to the joys of coarse acting. Not sure what that is? Then watch this space for enlightenment!
Other meetings are still being arranged and will be announced here and in our newsletter once details are finalised.
If you would prefer to join one of our live meetings via Zoom, we can certainly accommodate you, but we need your e-mail address, please, so that we can send out the necessary link; contact [email protected] as soon as posible to make sure of a place. For meetings at the Coombes Centre, however, there's no need to book, they're completely FREE, and they're open to absolutely anyone, whether or not you've been involved with CADS in the past.
If you have an idea for any future meetings, or would like to lead a session yourself, please contact the CADS Secretary Michael Young....
Watch this site and/or our newsletter for details of future meetings!