Meetings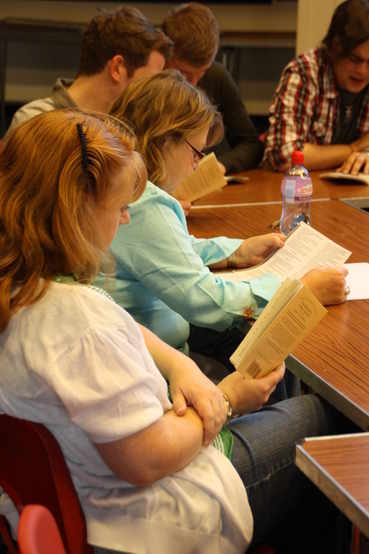 As well as putting on productions, CADS runs a series of more-or-less regular meetings related to drama in all its aspects. Often these take the form of play readings - to date, we've read works by Alan Ayckbourn, Peter Shaffer, Willie Russell, Lee Hall, David Tristram and Terry Johnson - but we've also had talks by visiting speakers, a film show, a quiz and a number of mini-workshops.
The meetings normally take place (unless otherwise stated) at the Coombes Community Centre (actual room may vary depending on the nature of the meeting). They usually start at 7.00 p.m. and last until about 9.00 p.m. (with maybe a break for refreshments, depending on the nature of the evening) but on occasion may go on slightly longer. And normally, there's no need to book - just turn up - we look forward to seeing you.
Our next scheduled meetings, however, are necessarily being held online using the Zoom meeting app. They include:
Monday 5 October, 7.30 p.m. - online play reading: "Not Bobby" by Nick Warburton, hosted by Michael Young (This is a follow-up to our recent highly entertaining online talk by Nick on adapting work for the stage and radio.)
Monday 19 October, 7.30 p.m. - online general knowledge quiz, hosted by Jeffrey Cottis
To join any of these meetings, we do need your e-mail address, please, so that we can send out the necessary link; contact [email protected] as soon as posible to make sure of a place
If you have an idea for any future meetings, or would like to lead a session yourself, please contact the CADS Secretary Michael Young....
Watch this site for details of future meetings!