Meetings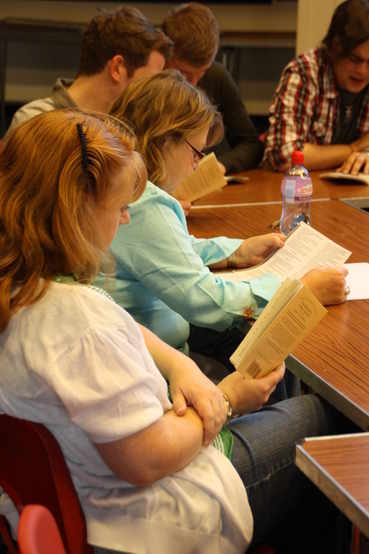 As well as putting on productions, CADS runs a series of more-or-less regular meetings related to drama in all its aspects. Often these take the form of play readings - to date, we've read works by Alan Ayckbourn, Peter Shaffer, Willie Russell, Lee Hall, David Tristram and Terry Johnson - but we've also had talks by visiting speakers, a film show, several quizzes and a number of mini-workshops.
The meetings normally take place (unless otherwise stated) at the Coombes Community Centre (actual room may vary depending on the nature of the meeting). They usually start at 7.30 p.m. and last until about 9.00 p.m. (with maybe a break for refreshments, depending on the nature of the evening) but on occasion may go on slightly longer. And normally, there's no need to book - just turn up - we look forward to seeing you.
Our meetings during most of 2020/2021 were, of necessity, held online but we've now started to get back to "live" events (with a Zoom option for those still not comfortable with a live event). The first of these was a play reading of Alan Ayckbourn's Absent Friends, hosted by Brenda Cottis on Wednesday 28 Julyat the Coombes Centre and was gratiifylingly well attended (as well as being hugely entertaining!). We hope to organise another of these shortly - most likely a new two-act comedy by the currently prolific Roy Maddox - as well as another in our series of quizzes.
We hope, also, some time later this year, to put on a rehearsed reading of The Staycation by Claire Hogan, to be hosted by Emma Daintrey. This is a brand new one-act play written by Claire as part of an exercise set during David Tristram's online School of Comedy, which Claire attended. Wendy and Rob are thwarted in their plans for a Caribbean cruise to celebrate their silver wedding by the restrictions of lockdown. Unfortunately, Rob has forgotten to cancel plans to rent out their home through Airbnb, and when the couple who have booked the house for the weekend turn up and refuse to leave, it's up to everyone to try and make the best of a bad job...
Other meetings are still being arranged and will be announced here and in our newsletter once details are finalised.
To join any of our online meetings, or to join a live meeting via Zoom, we need your e-mail address, please, so that we can send out the necessary link; contact [email protected] as soon as posible to make sure of a place. For meetings at the Coombes Centre, however, there's no need to book, they're completely FREE, and they're open to absolutely anyone, whether or not you've been involved with CADS in the past.
If you have an idea for any future meetings, or would like to lead a session yourself, please contact the CADS Secretary Michael Young....
Watch this site and/or our newsletter for details of future meetings!