Meetings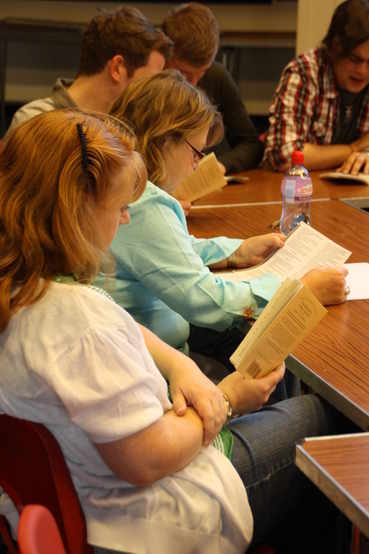 As well as putting on productions, CADS runs a series of more-or-less regular mid-week meetings related to drama in all its aspects. Often these take the form of play readings - to date, we've read works by Alan Ayckbourn, Peter Shaffer, Willie Russell, Lee Hall, David Tristram and Terry Johnson - but we've also had talks by visiting speakers, a film show and a number of mini-workshops.
The meetings take place (unless otherwise stated) at the Coombes Community Centre (actual room may vary depending on the nature of the meeting). They usually start at 7.00 p.m. and last until about 9.00 p.m. (with maybe a break for refreshments, depending on the nature of the evening) but on occasion may go on slightly longer. And normally, there's no need to book - just turn up - we look forward to seeing you.
Note that the workshop on musical theatre originally advertised for Thursday 2 April at Limitless Academy has had to be cancelled because of the current pandemic.
Our next scheduled meetings after that, assuming they can go ahead, are:
Thursday 23 April 2020 7.00 p.m. - play reading: "Six Dead Queens... and an Inflatable Henry", hosted by David Atkins
NOTE: Six Dead Queens will form part of our contribution to the 2020 Royston Arts Festival in September; auditions will take place the following week on Thursday 30 April - this read-through will take place in the Drama Studio at King James Academy, Senior Site.
Wednesday 3 June 7.00 p.m. - illustrated talk : "What I did for Auntie" - tales of working for the BBC by Steve Richards, at the Coombes Community Centre
Wednesday 15 July 7.00 p.m. - drama quiz (postponed from February), hosted by Pauline Rowe at the Coombes Community Centre
Wednesday 23 September 7.00 p.m. - talk: "Adaptation" - writing for The Archers and other works by Nick Warburton
NOTE: this talk will take place at the Royston Library as part of this year's Royston Arts Festival
If you have an idea for future meetings, or would like to lead a session yourself, please contact the CADS Secretary Michael Young....
Watch this site for details of future meetings!